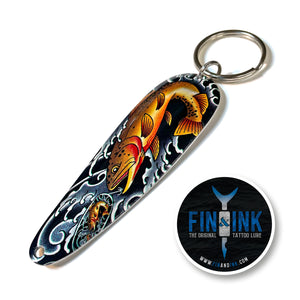 The Troutception - Keychain
The Troutception

Length: 3 in.  |  Casting Spoon

During a fishing trip to a small lake in the mountains close to where he lives in Montana the Troutception was inspired after catching a small, aggressive Cutthroat trout. The bait he was using had the exact same colorations and patterns as the fish he caught. He thought, wouldn't it be cool to create some art of a fish chasing a fish, chasing a fish, chasing a fish!
---
We Also Recommend
---