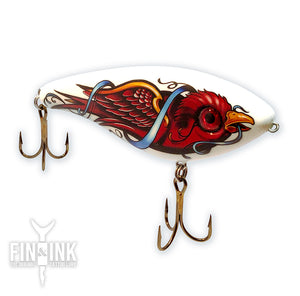 The Swallow – Red | Muskie Diver Swimbait
VERY LIMITED LURES!!
The Swallow - Red Bird | Swim Bait

Length: 5 in. |  Height: 2 in.  | Red Color
The swallow symbol was historically worn by mariners to show their ocean experience. One swallow for every 5000 miles they traveled, and the more swallows the more experienced and seasoned mariner. The Swallow is also a symbol for the safe return to home port. The legend of the Swallow extends to the avid fisherman and shows that only the most experienced and knowledgeable will be rewarded with excellent days on the water. The Swallow lure is a deep water trolling or casting lure with a distinct rattle system that will attract the attention of the largest freshwater or ocean dwellers. 
The package includes: Foil Stamped Box Packaging, Lure, Protective Microfiber Pouch, Legend Card, Tackle Box Cards and 2 Stickers.

---
We Also Recommend
---