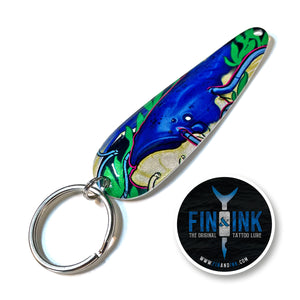 The Catfish - Keychain
The Catfish

Length: 3 in.  |  Casting Spoon Keychain

What can I say, catfish are cool. Maybe it's the whiskers paired with almost monsterous size, or, that fishing for them can be called noodling. The art of finding a deep dark hole, and shoving your arms and or legs inside, hoping that they get bitten so you can wrassle this beast out from the depths. To me, this sounds like nothing short of a good time, and has perked my interest for far too long. Unfortunately, there's no noodling in Alberta, so a lure with a catfish on it will have to do.
---
We Also Recommend
---